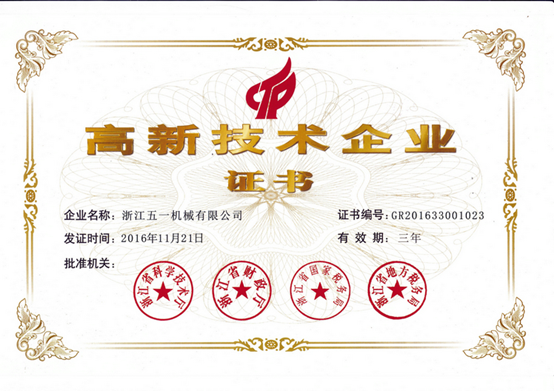 A few days ago, the Provincial Department of Science and Technology, the Provincial Department of Finance, the Provincial National Taxation Bureau, and the Provincial Local Taxation Bureau announced the list of the first batch of high-tech enterprises in Zhejiang Province in 2016. Zhejiang Wuyi Machinery Co., Ltd. stood out among many declared enterprises and passed the certification.
Since its transformation in 2013, Zhejiang Wuyi Machinery Co., Ltd. has been working closely around the company's main line of technological innovation. It has always maintained an attitude of pursuing excellence in product quality, actively building an independent innovation platform for enterprises, improving the incentive mechanism for scientific and technological progress, and increasing technological development. With the intensity of technological transformation, the company's product development has successfully obtained a number of scientific and technological achievements inventions and new technology patents.
In order to promote technological transformation and increase the market value and capital value of enterprises, the company actively applies for the qualification of high-tech enterprises. After the company passes the certification, it enjoys preferential policies such as the deduction of R&D expenses and the state's financial subsidies for high-tech enterprises, which will provide financial support and policy guarantees for the company's sustainable development.